OddUp is one of the hottest startups in the Hong Kong FinTech Space. What it provides is a startup database including news, team members, performance and most importantly a "startup rating". The startup rating is the core part of the project. It will indicate whether investors should buy, hold or sell the company.
Recently Oddup has raised $6M USD. I am very interested in analyzing how the service is different from AngelList and Crunchbase. For my personal interest, I used to research whether a startup will have a higher successful rate by checking the background information on the 2 websites.
According to the official website, OddUp focuses more on Asia region compared with AngelList and Crunchbase. It may help Asia investors to find out the next Unicorn much easier.
So I registered a free account to see if it's useful for me, imagining myself as an investor of course. Below will be my analysis regarding UX and business viability.
UX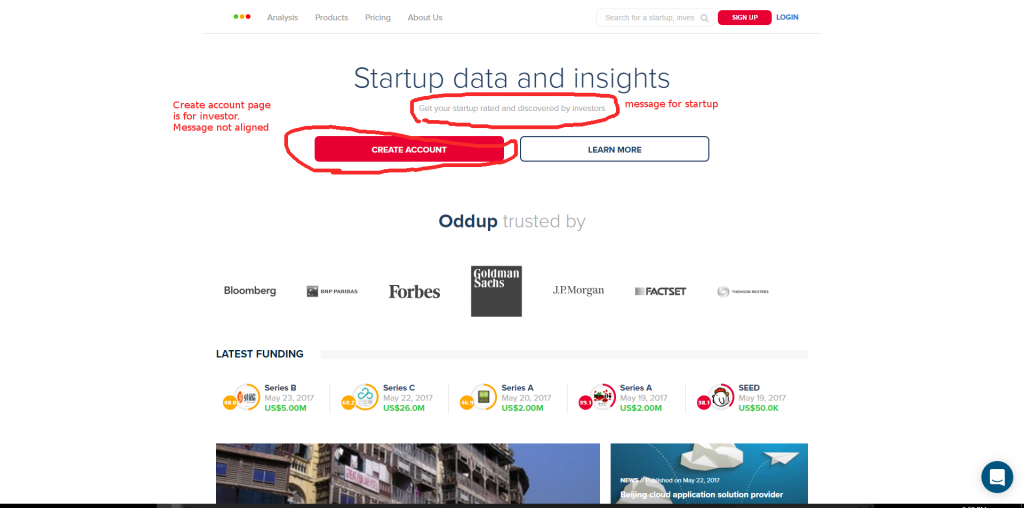 When I visited the home page, the message "Startup data and insights" is very clear. But I found the subheading "Get your startup rated and discovered by investors" is not aligned to the create account page.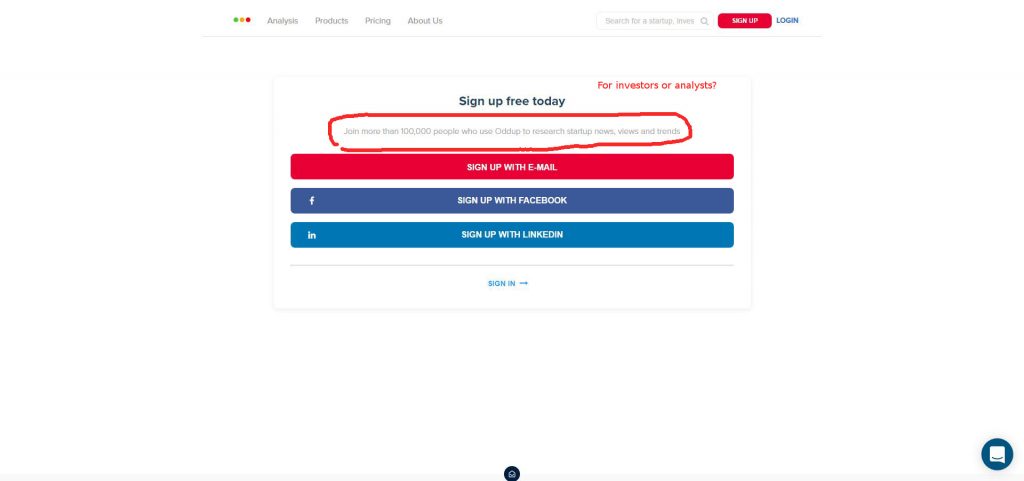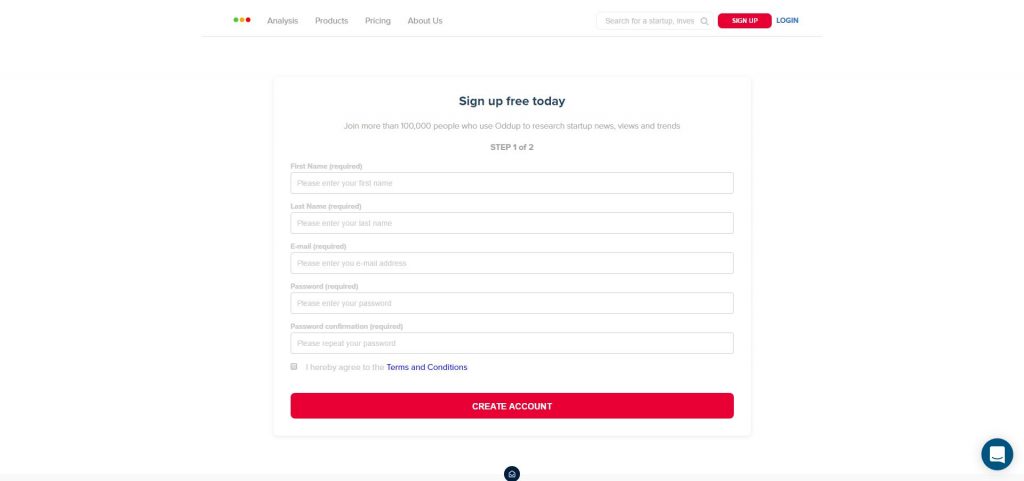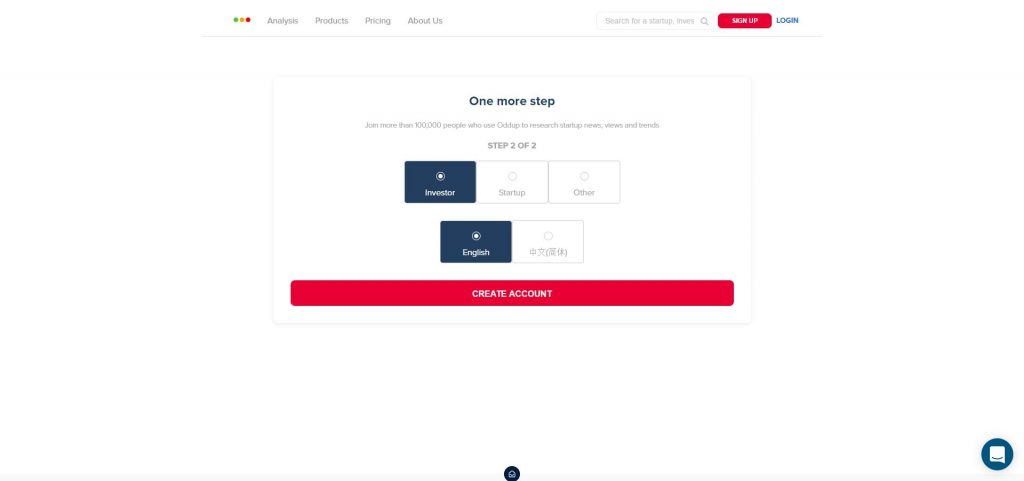 The signup forms don't have any problem. I can just select investor role & English. Then I successfully move to the finished page.
However, the "build your dashboard" button is not working. I can close the popup by clicking on the black space. (fixed at my 2nd trial: 25/5/2017 2:50 pm)
After signing up, I can select the 3 categories I like. That's great. I will just select Consume / Software App, Social Media and Enterprise Solutions.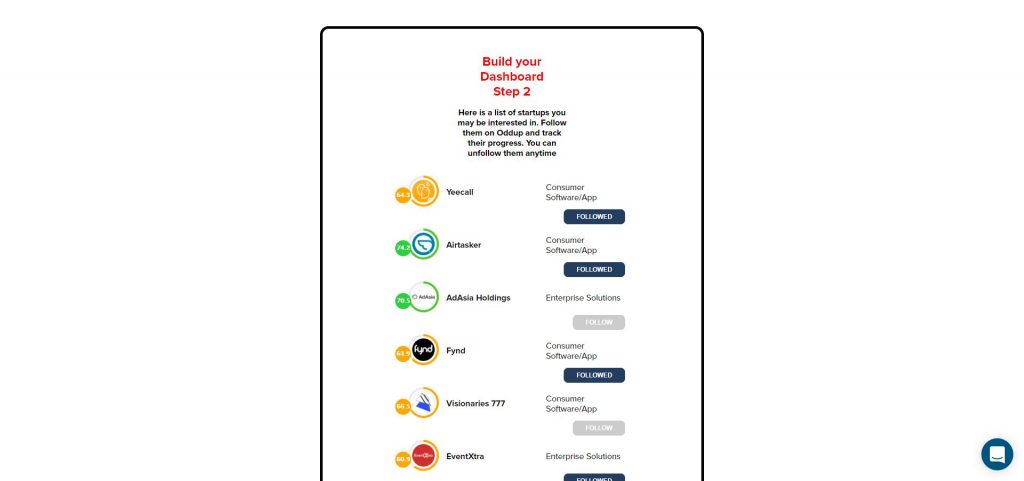 OK, Just pick the companies I like.
It will construct a dashboard for me. As I don't know anything about these companies, It is strange to ask me to give ratings. Anyway, I will click on a startup to view details.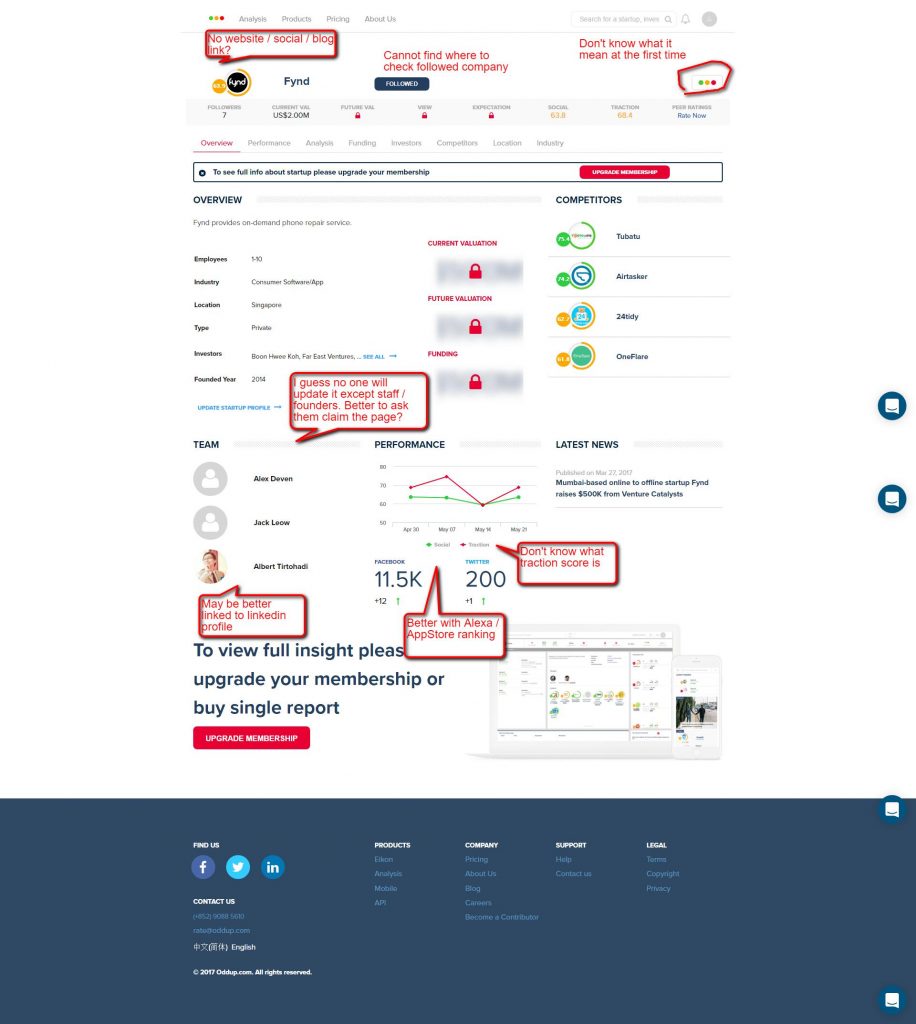 In the startup profile page, I found that there are more problems. It's great to see that the information is consolidated on a dashboard. It saves my time to google it around. But the information can be found on AngelList and Crunchbase without opening a new account.
Another main problem is that I don't know how it evaluates the performance of a startup. It may be better if I can know the Alexa and AppStore ranks are raising. At least I know that there are more users using the startup's service.
The rating means not much for me. Does higher score mean the risk is lower or higher return or what?
Question
I wonder if a startup can be rated similar to a public company. The transparency is much lower. Can it help me to capture a startup before the hockey stick growth appears?
If the startup is pivoting, how can it be rated? Flickr and Slack were pivoted from games by the same co-founder, Stewart Butterfield. But the games failed. So it may be better for startups who have reached Product Market Fit (PMF)?
Can the peer rating (buy, hold, sell) really indicate a good startup? If everyone is thinking the startup is good, it should be too late for angel investment.
Improvement
It is great If it can help me to build up my investment portfolio instead of using a plain spreadsheet.
More metrics like user number, monthly active users are preferred.
We're waiting for you!
SillyCube provides On-demand Product Optimization service. Please contact [email protected] to know more about our service.